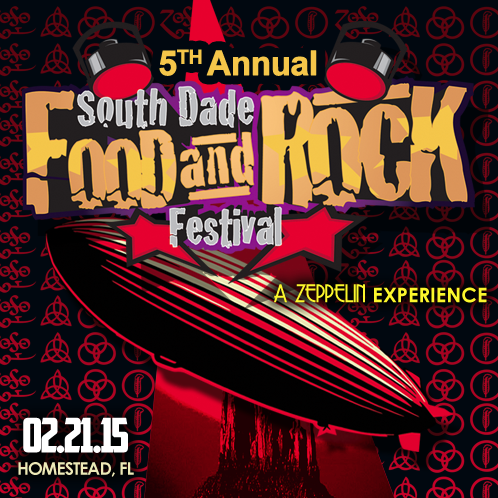 Florida Rock Stars presents "A Zeppelin Experience" at the 5th annual South Dade Food and Rock Festival Saturday, February 21, 2015, at Harris Field Pavilion in Homestead, Florida.
The event continues a fine tradition of bringing some of the best classic rock bands in all of South Florida to South Miami-Dade County, featuring the Led Zeppelin tribute band, Zepbelly, and local legends, The Regs, Colbert and Head First.  Fans are in for a treat as each band will be showcasing a sprinkling of Zeppelin classics.
The festival also showcases some of the best food around, including amazing stone crabs, killer barbecue and loads of other tasty foods served up by local restaurants.  A cash bar, with top shelf liquor, VIP Tables and a host of other vendors and exhibitors help round out the festival experience.  Finally, the event includes a special raffle and other initiatives to help raise money for local charities.
Gates open 3:30 pm and the show runs from 4 pm to 11 pm – no coolers permitted.

Enjoy the videos below of our featured bands!