Florida Rock Stars presents the second annual Palmetto Bay Food and Rock Festival – sponsored by Miami Brewing Company this coming Saturday November 2, 2013 at the Village Center in Palmetto Bay, Florida.
The upscale festival, which runs from 3pm to midnight, features six classic rock bands on the big stage, 20 gourmet food trucks, four cash bars and a silent auction for authentic autographed classic guitars.  Florida Rock Stars also uses the event to help create awareness and funding for local charities and are pleased to partner up with the American Way Foundation, which, based out of Homestead, Florida, provides unique support services to underserved communities in South Florida.
The show, nicknamed the Zeppelin Experience, features Led Hed, the ultimate Led Zeppelin tribute band, as well as five of the finest classic rock bands in South Florida; Jamie King Colton Band, Riverdown, Classic Rock Therapy, 3 Feet Closer and Colbert.  Gourmet food will be served up by the Food Truck Invasion, which will be rolling out 20 food trucks of assorted dining experiences.  Tobacco Road will be hosting the cash bars, the Miami Brewing Company will be serving their delicious Craft Beer and a host of other vendors serve to provide the ultimate festival experience! 
Gates open 2 pm.  No coolers – RAIN OR SHINE.  Tickets are $20 at the gate while advance tickets are $15 on line at floridarockstars.com.  Reserved VIP tables (8 tickets) with cocktail waitress service are available for $200.  Florida Rock Stars shows are known for being affordable!
Florida Rock Stars is dedicated to preserving rock and roll music and culture in South Florida. Our mission is to bring back rock! We are also big believers in raising awareness and money for charity organizations in South Florida.  To deliver on our dual missions, we connect local talent with local communities and businesses through good music and good times.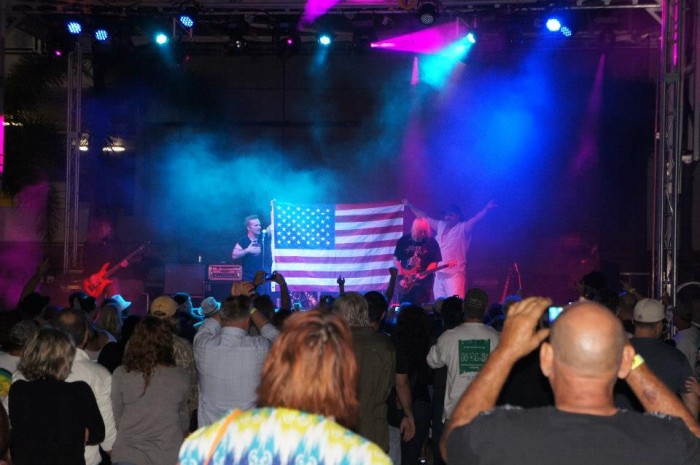 Quotes from the Florida Rock Stars partners:
Mickey Filippucci:
"It's been a fun ride creating this event but the annual Palmetto Bay Food and Rock Festival is growing up quick. As we discovered, people LOVE classic rock and roll and we are so pleased to tap into that raw emotion. Everyone that touches this thing wants to get involved – so we take great pride in building the Rock Stars Nation!  It may take a while but it's coming just the same."
Richard DiBenedetto:
"The show is throw back to the seventies when outdoor music was the norm. We all remember the unbelievable wall of sound and the big stage and light shows.  Well, that's what we do at the local level and the fans love it. For the Palmetto show we are giving fans the Zeppelin Experience and we brought in the ultimate Led Zeppelin tribute band, Led Hed."
Mickey Filippucci:
"We want to recognize our fantastic business partners, SkyNet 360, Tobacco Road, Baptist Hospital, Playboy Energy Drink and especially our title sponsor – Miami Brewing Company, which will be showcasing the finest in craft beer made right here in Dade County at the Schnebly Winery. Finally, we are pleased to be working with the Musicianstream.com folks, who will be providing a live video stream of the show over the internet."
Richard DiBenedetto:
"Wait until you hear these bands! We can't believe how lucky we are to have Jamie King Colton Band at the show – they are famous and have played with everyone in the business.  The other bands at the show are some of the best classic rock bands in South Florida. If you love rock and roll, you are going to love this show."