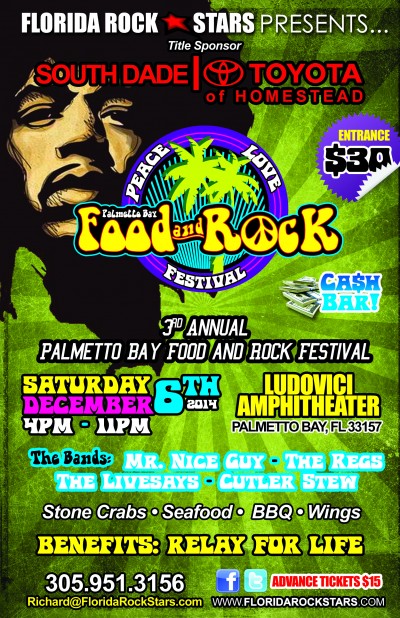 Florida Rock Stars presents the 3nd annual Palmetto Bay Food and Rock Festival on Saturday, December 6, 2014 at the Ludovici Park in Palmetto Bay,Florida.  This year's event also helps raise awareness for local charities and brings South Dade fans together in a special night of entertainment.
The event features some of the finest classic rock bands in South Florida and showcases some of the best food around, including amazing stone crabs, killer barbecue and loads of other tasty foods served up by local restaurants.  A cash bar, with top shelf liquor, and other vendors and exhibitors help round out the festival experience.  Finally, the event includes a special raffle to help raise money for great causes.
Performing at this year's show are some of the best bands in the Florida rock music scene:
Mr. Nice Guy –  The Regs –  The Livesays – Cutler Stew 
Gates open 4 pm and the show runs from 4:30 pm to 11 pm.  No coolers permitted – folding chairs and blankets are welcome.
General Admission tickets are $30 at the gate while advance tickets are $15 each, or $25 for two online at floridarockstars.com (limited time only).
Florida Rock Stars introduces the $40 Backstage VIP Pass  (limited quantity), for the 3rd annual Palmetto Bay Food and Rock Festival.  The Pass grants access to front row VIP seats and access to the air conditioned club house above the stage with a live video remote broadcasting the event on a large screen as well complimentary water, soda and catered finger food.  A cash bar will also be available in the VIP club house. Mingle with the bands, get autographs and photos, eat, drink and live like a rock star!
Florida Rock Stars is dedicated to preserving rock music and culture in South Florida. We are also big believers in raising awareness and money for charity organizations in South Florida. To deliver on our dual missions, we connect local talent with local communities and businesses through good music and good times. Florida Rock Stars, where tomorrow stars play today!