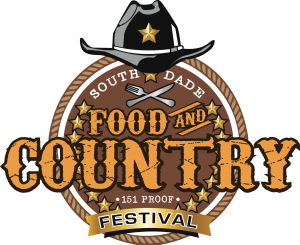 Saturday October 27, 2012 / 4 pm – 11 pm / no coolers – RAIN OR SHINE!
Featuring: Jade Sanders + Cecilia Lauren & the Ocoee River Band + One Night Rodeo
Harris Field Pavilion / 1034 NE 8th Street, Homestead, FL 33030
MUSIC: Florida Rock Stars presents the South Dade Food and Country Festival. The headlining act for the show is Great American Country star search (GAC) award winning ONE NIGHT RODEO, who are currently on tour in South Florida doing the Hooters "Summer on Ice" Concert Series. In addition, the show features Homestead's own JADE SANDERS as well as CECILIA LAUREN and the Ocoee River Band. Finally, just to spice things up, lined up and ready to go are the Wild Roses Line Dancers!
FOOD: The Festival features some of the finest foods in the area, with Joe's Seafood Stone Crabs and Big Pig BBQ leading the way. Every other kind of food will also be available, including wings,burgers, hot dogs, pastas and salads. Cash Bar includes beer, wine and mixed drinks.
CHARITY: The event is dedicated to promoting the local animal rescue organizations, THIS IS THE DOG, CHAIN OF LOVE ABANDONED DOGS and MY ANIMALS ROCK. To help raise money for the cause, special $5 raffle tickets are being sold at the event to win a $2500 diamond tennis bracelet! Visit https://www.wepay.com/events/animal-charity to get your tickets.
RAIN OR SHINE!! The country show is held at the Homestead Harris Field Pavilion, which is covered so any rain will not dampen the spirits. The upscale event includes covered reserved VIP tables with cocktail waitress service. In addition to the great food and music, there will be a cash bar, massage tent and a number of jewelry stands and other boutique vendors. Lining up to support the event are more than 50 corporate sponsors from the local business community! Connecting business and prospects through music – very cool.
Click Here to buy tickets on line for 2012 South Dade Food and Country Festival
Advance tickets are $15. Advance Tickets are available on line and also at the Lumo Printing store in Homestead. Tickets are $20 at the gate.FRS Food and Country Festival radio spot
Reserved tables, which include eight (8) tickets, are available for $200 – email or call to reserve and purchase tables. For more details, call 305.951.3156.
Check out the big hit "Big Truck" by One Night Rodeo:
And here is Jade Sanders, singing her big hit "Tell Me."
And finally, Cecilia Lauren and the Ocoee River Band performing "Country Girl." Check it out.