Florida Rock Stars presents Scheckner & Hetenyi PL – proud sponsor of the 4th annual Palmetto Bay Food and Rock Festival! 
The best advice is to get the best advice!  With offices in Palmetto Bay and Coral Gables, Scheckner & Hetenyi CPA, is a boutique accounting practice serving the South Florida community.

Professional Services Offered:
¨ Individual and Corporate tax preparation
¨ IRS tax problem resolution
¨ Representation before IRS and State taxing authorities
¨ International taxation and planning
¨ Individual and Business tax planning
¨ Trust and Estate accounting
¨ Financial and Estate planning
¨ Litigation support services and forensic accounting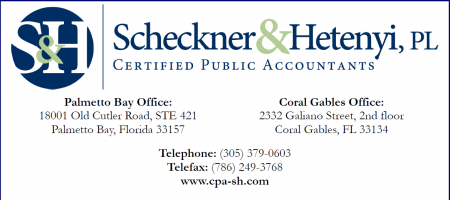 Florida Rock Stars thank Scheckner & Hetenyi CPA for their support of our local community, local charity and local festival! We can't rock without help from our business partners! Scheckner & Hetenyi – you guys ROCK!
Visit our website at www.cpa-sh.com.