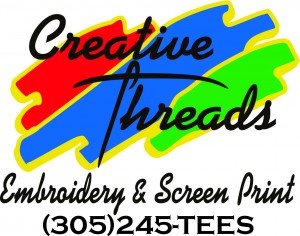 505 N Krome Ave
Homestead, FL 33030
(305) 245-TEES
This business specializes in Embroidery and Sewing & Screen printing. Provides direct custom embroidery on name brand apparel. Custom embroidered logo apparel including shirts, hats, jackets, bags, t-shirts, sweatshirts for use as uniforms, corporate apparel and business shirts.
Visit www.companycasuals.com/creativethreadsinc – Custom Embroidered Polo Golf Shirts, Custom t-shirts, Sweatshirts, Embroidered Jackets, and Embroidered Caps for Corporate Apparel, Small Business and individuals.
Embroidered Clothing for every need.
Fundraiser and family events as well. T-shirts done right!
Embroidery Screen Printing and more…we pride ourselves in listening to our customers to ensure that we understand your requirements to provide you with quality and professional service on time!